Join the list of Lewisville residents and others supporting the campaign: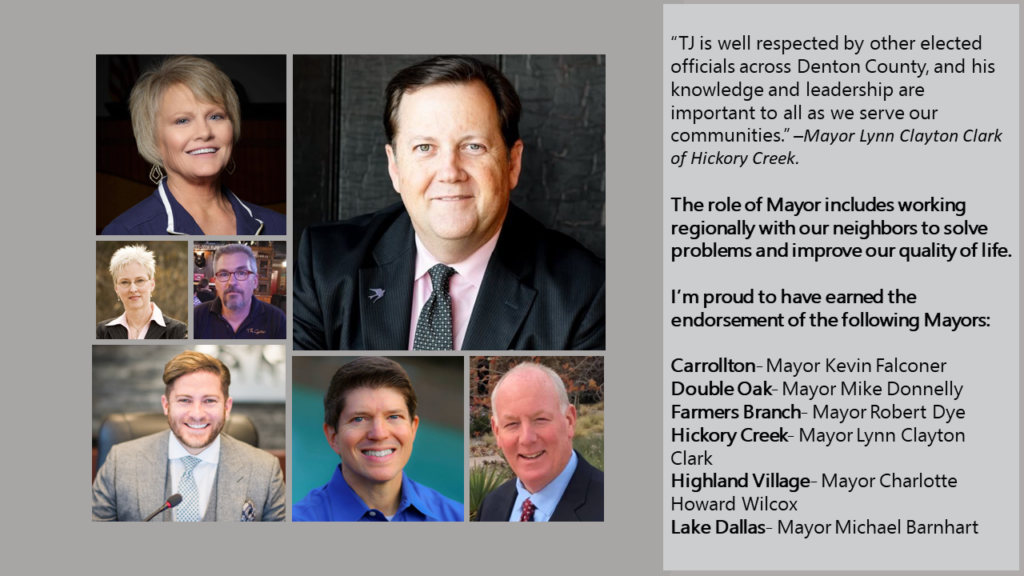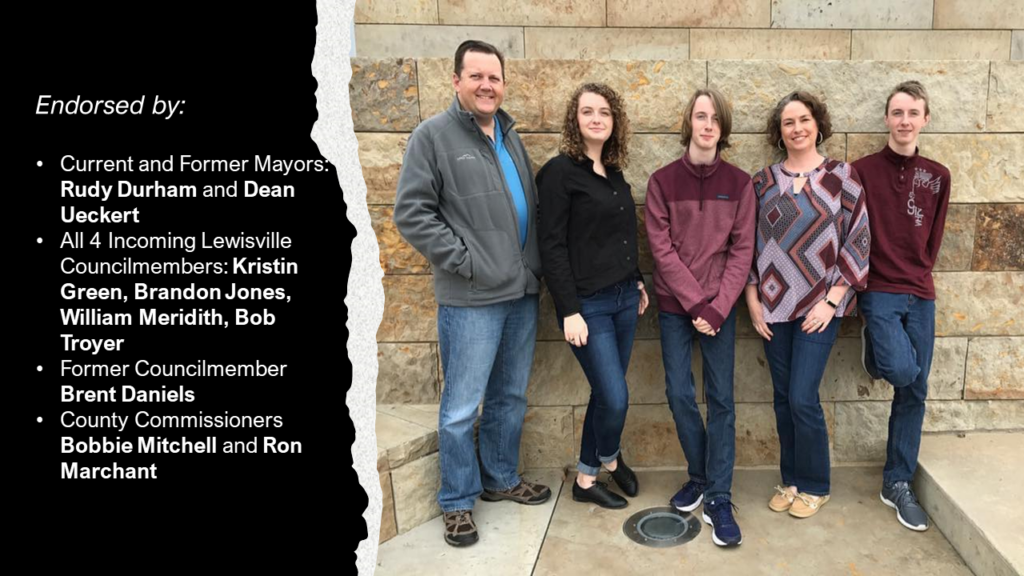 Lewisville Residents Rick and Paige Shoven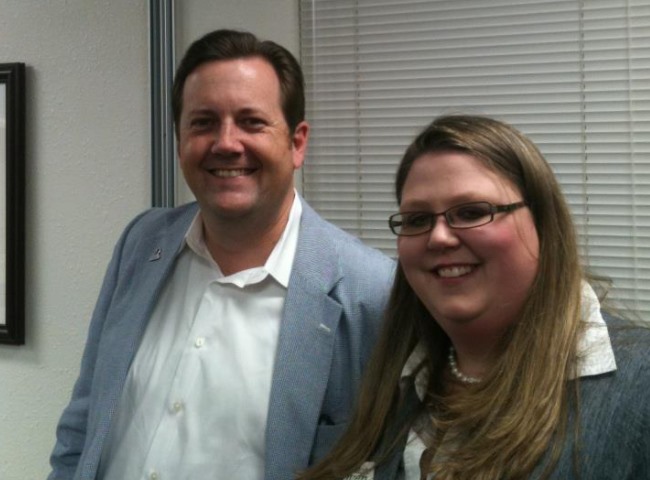 When TJ announced he would be running for mayor, our first thought was "Its about time!" Lewisville has historically been blessed with fantastic mayors. TJ's outward love for the community make him the perfect person to next lead our great city!
Even before he was Councilman Gilmore, he prided himself on learning all the inner workings of the city. He has a passion of sharing that knowledge with all who want to know. He often speaks one on one to community members answering their questions and concerns.
Understanding we are busy, his Compat Council meetings, a recap of city council meetings, are online and open for all to see. He truly believes transparency leads to trust and there is no city topic off limits, even when his legal answer is to explain why he can't go into more detail.
There has never been a community event TJ was not present for. Whether it be supporting the Fighting Farmers, defending the residents in Austin, or working side by side with the Boy Scouts, TJ is up for the challenge! (sometimes all on the same day!)
For the past decade, It has been a pleasure for our family to grow in friendship with TJ and the Gilmore family. Speaking of the Gilmore's, even though their names are not on the ballot, you should know they are just as wonderful as he is! They love Lewisville and can often times be seen smiling right beside him at community events!
We are looking forward to the day we can say 'Hello Mayor Gilmore!'
Rick and Paige Shoven
City Councilmember Brandon T. Jones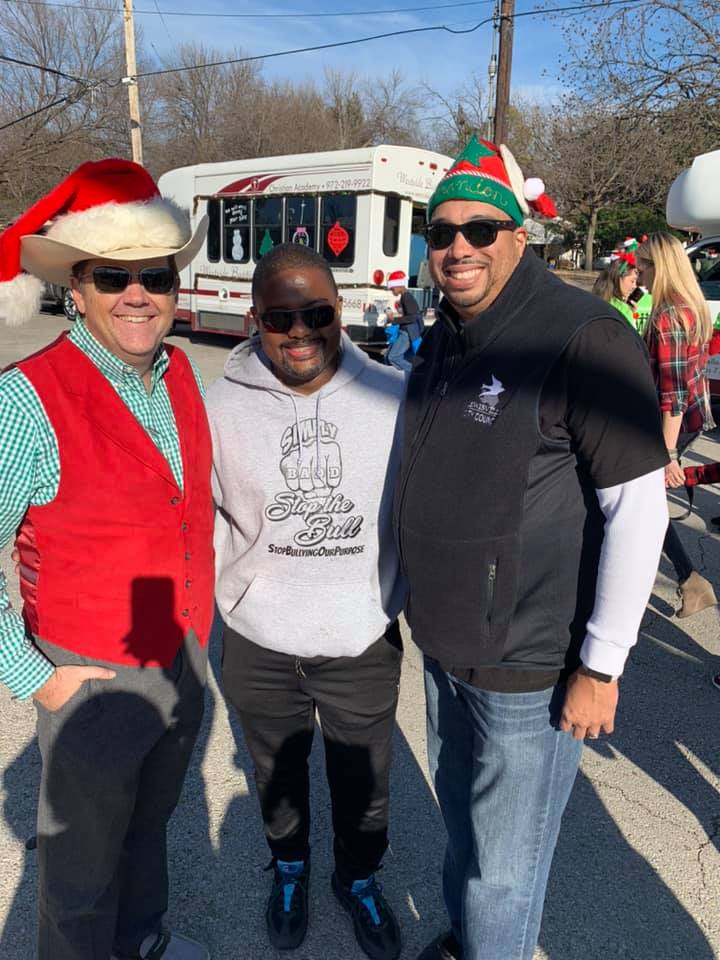 "I am supporting my friend TJ Gilmore for Mayor of Lewisville. In my opinion, service to the city is an important attribute when running for city council, and specifically when running for Mayor of the 33rd most populous city in Texas.

Municipal government is the last bastion where good governance still occurs. It is vital that candidates are engaged and actively involved with the city in which they want to serve.

TJ's city service began in 2005 with the Community Development Block Grant Committee and expanded to other committees prior to being elected to the City Council in 2011. TJ served all while raising three great kids with his wife Tanya. They were active band parents and Boy Scout leaders all while working full-time in their careers. TJ's commitment to our community has prepared him for this next step in leadership and I am happy to support him in this endeavor to become the next Mayor for the City of Lewisville."
Lewisville Mayor – Rudy Durham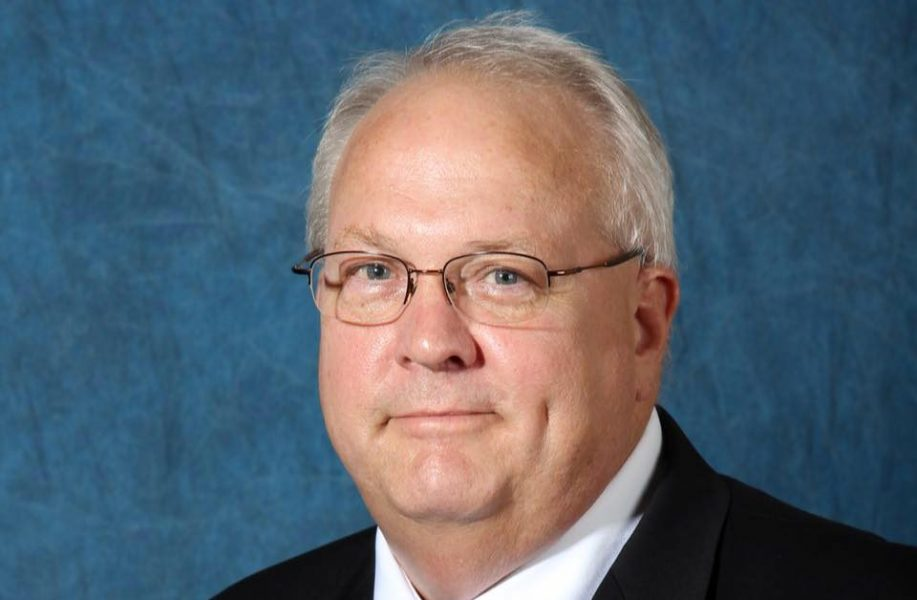 "Please join me in supporting TJ for the next Mayor of Lewisville."
I'm grateful for the endorsement of two Lewisville mayors, our two county commissioners, and six former, current, and incoming city council members.
The Mayor is a nexus- they create connections between citizens, businesses, and other community leaders to move the city forward. I believe my experience, my goals, and my current work embody building connections and community.
Business owner Kelly Blackall – Blackall Photography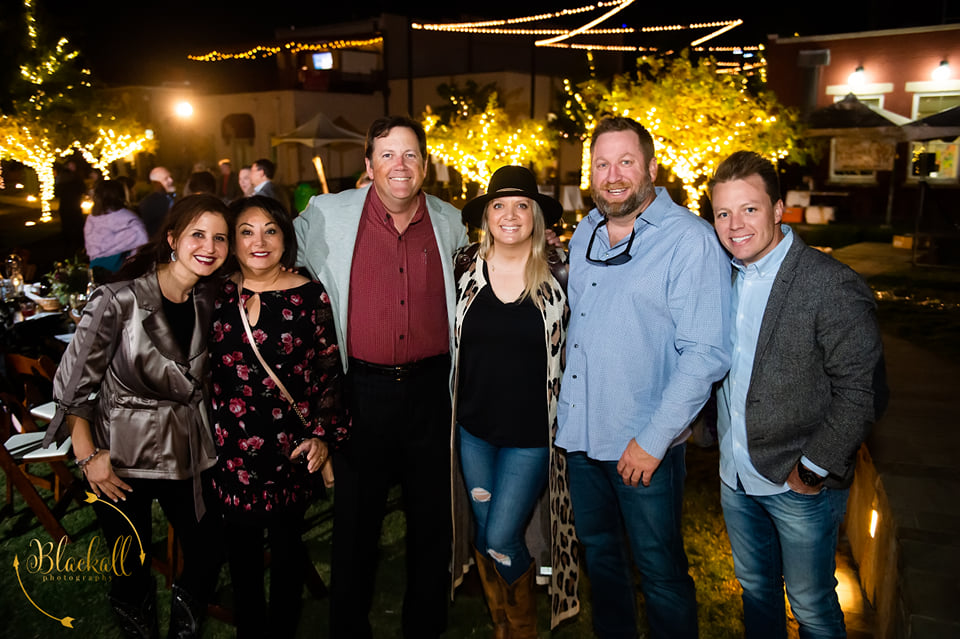 (My friend in the hat) has this to say about the campaign:

"TJ Gilmore shows up.

I feel like that sums up what I want to impress upon you here, but to broaden my thoughts a little further, I want to mention that besides always being a face for just about any Lewisville event by taking the time and being involved in his community TJ also absolutely has the experience and chutzpah to be our mayor here in Lewisville.

I'm proud to know him and I know he will serve our community well. He listens to the community and does right by its people. If you haven't had a chance to listen to his compact council on Facebook, I highly suggest doing so.

My vote for Mayor will be TJ Gilmore. I hope he can have yours also."
Councilmember Bob Troyer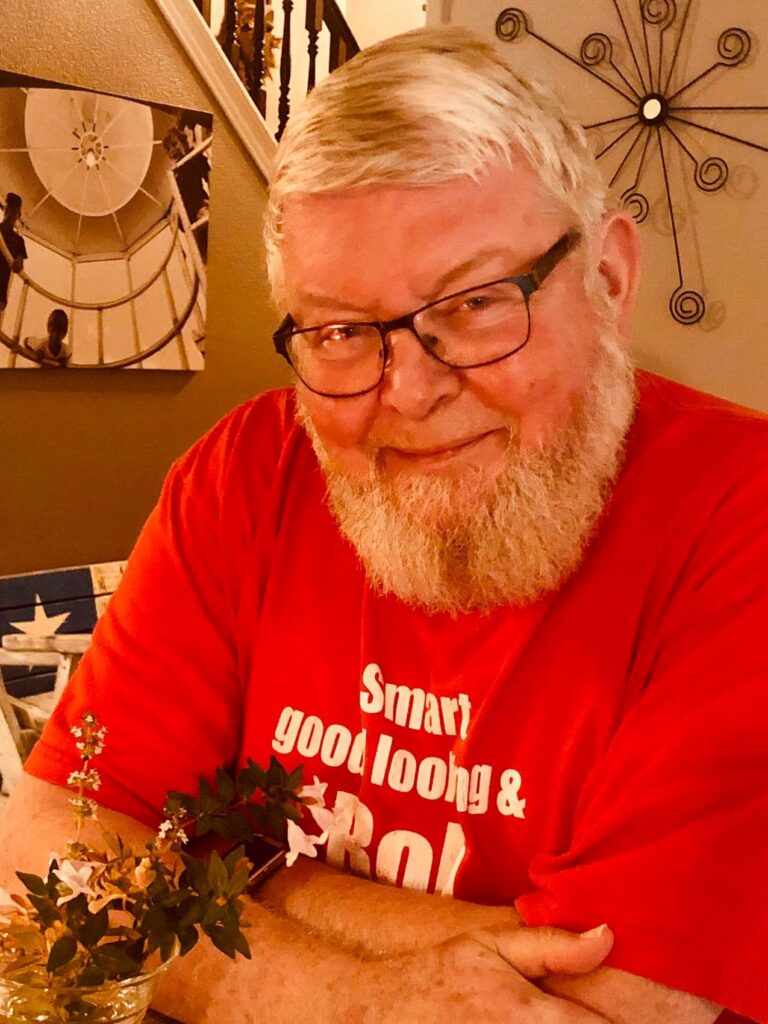 TJ has the experience, knowledge and personality to make an excellent Mayor for the City of Lewisville! I look forward to serving on the Council under his leadership.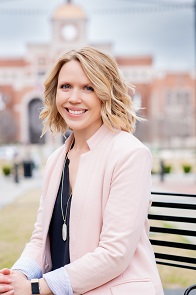 Councilmember Kristin Green
I'm pleased to endorse TJ Gilmore for Mayor of Lewisville. TJ is among the original visionaries of the Lewisville 2025 Plan, and he understands how the City, local business community, and citizens must work together to see the vision come to fruition. Further, he understands that policy decisions affecting Lewisville are not always made at the local level. TJ has spent years building relationships at the regional, county and state levels and has become a strong advocate for our community. He is a true servant leader, and I have full confidence in his ability to lead the Council and our great community. Please join me, and vote TJ Gilmore for Mayor of Lewisville!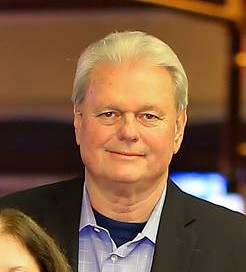 Former Lewisville Mayor Dean Ueckert
Please join me in helping elect TJ Gilmore for Mayor of Lewisville. While serving on the City Council Mr. Gilmore has proven his leadership, experience and commitment to make a difference. He has a passion to serve our community, helping Lewisville have a thriving future while making certain all citizen concerns are addressed. I'm proud to endorse TJ Gilmore for Mayor of Lewisville.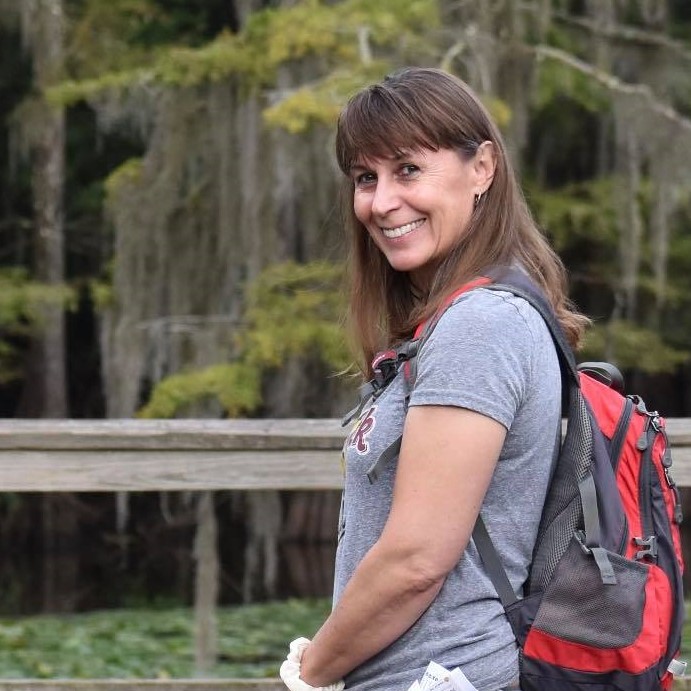 Kathi Stock
I wanted to write a recommendation for your candidacy as mayor of Lewisville ever since you announced running. Finally got around doing it: I met TJ in 2011 when he ran for city council at one of his campaign meetings where one of the topics was to deal responsibly with the oil and gas companies without sacrificing public health and safety. During his time on the city council he has demonstrated that he is a man of integrity with a grand vision for Lewisville and its citizens. What I like most about him is that he always approachable and always strives to include all stakeholders into crafting solutions for the common good.I was even more thrilled to discover him one early morning at a Camp Gladiator workout. Striving to be better and do better.
I think it would be a tremendous gain for Lewisville to have TJ as a mayor and I support his campaign wholeheartedly!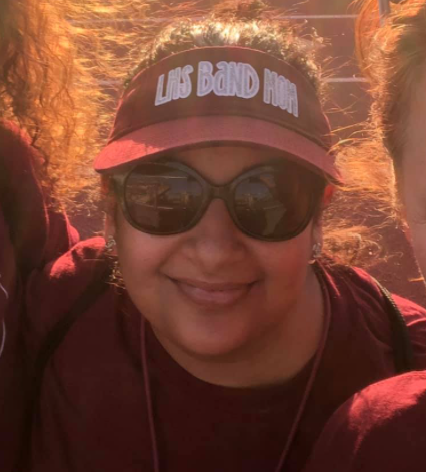 Current Planning and Zoning Board Member Erum Ali
I have had the pleasure of knowing TJ and his lovely wife Tanya for 6'ish years now. We first met when my eldest started middle school band and Tanya quickly became my friend and mentor for all things band and high school related. Just like the Gilmores, I also have twin boys and a singleton
. As time went on, I got to know the Municipal side of TJ. I can confidently say his example of being the consummate public servant is what propelled me to get involved in the Lewisville community. Whether it's Boy Scouts, Marching Band, Orchestra…Chamber of Commerce, Rotary or his tireless work on boards like the DCTA and his time on COL boards and commissions leading to his city council tenure, TJ has shown that he has the knowledge and experience to lead our City forward. The best thing about TJ—even if he doesn't see eye to eye with you on an issue..he'll listen. He'll consider. He'll empathize. He'll process. He'll find a way to get it done if it's in his capacity. And if it's not, he won't tell you what you want to hear just for the sake of lip service. This is why I'm supporting TJ Gilmore for Lewisville Mayor.
Current Arts Board Member Sara Hicks
TJ has a passion for our community which has been demonstrated in his years as a City Councilman, his willingness to sit and talk with constituents, and his continued engagement within our community and surrounding communities. TJ has a heart for Lewisville! – Sarah Van Norman Hicks
The Blackshears
I've seen TJ run in shorts, pants, before the sun rises, after, cold and wet weather and warm and dry. In every instance he has shown a passion for doing good in and for his community. Yes!!! Run TJ! Run!!! – Melissa Blackshear
Incoming Lewisville City Council Place 2 Councilmember and Current Planning and Zoning Vice Chair William Meridith
I would definitely support TJ in his run for Mayor. Mr. Gilmore has shown over and over again his commitment to Lewisville and the passion for this City. He has the passion, commitment, and experience to lead the City of Lewisville. From DCTA to Compact Council to Mr. Santa, TJ will fit in with the great line of Mayors of Lewisville.
The Myers
Lewisville residents…this is TJ Gilmore. He is a good man, a good father, a helluva ballroom dancer, has a surprising falsetto when he sings, and he is good for our city. I am proud to call him my friend and I am proud to endorse him for mayor of Lewisville! And even though he's a Star Trek guy and I'm a Star Wars guy, he'll get my vote. (He bought the shirts!)So…May the Force be long and prosperous with him…wait, thats not right. Live long with the prosperous Force with you…no….I May be Forced to live in Prosper for a long time? Oh hell, you get the picture. Vote for the guy!! – Chris Myers
The Smolinskis
Hey friends! I am excited to endorse your friend and mine, TJ Gilmore for Lewisville Mayor this 2021 election! On a personal level, TJ and his family have been close to my family for many years and there is no family I trust with what Matt and I hold most dear.TJ brings charismatic leadership with a grounded commitment to serve our city. His innovative 'Compact Council' series allows our community to have their finger on the pulse of our city's activities, growth, and services. As a graduate myself of Lewisville's Citizens University and the Citizens Police Academy, his and other council members continued commitment to invite citizen involvement into these and other similar programs not only educates participants, but leaves graduates with the desire to serve the city they love. Citizen input and involvement shapes not only where we are today, but where we are going tomorrow, benefitting generations to come from all parts of Lewisville. One of the things that makes Lewisville truly beautiful is our diversity at every level. The annexation of Castle Hills in the near future will add to that diversity. I believe TJ is the right person to lead Lewisville as Mayor during this growth as we come together to build a community that benefits all residents. Lewisville truly is a city for all walks of life, which is something we can continue to be proud of. – Audra Smo
The Everliths
Our family supports TJ Gilmore in the mayor's race. I have know TJ for over a decade through Boy Scouts. He loves his wife and children. His family is wonderful. I personally can tell you he is a Family man of good character (not because he loves star wars,lol). He has always supported his family and Lewisville! I don't know if he's Democrat or Republican. I do know he's honorable and trustworthy. I'm voting Gilmore for Lewisville Mayor !
The Reinharts
I've lived in Lewisville for more than 25 years, and have known TJ for at least 10. In the time TJ has served on the Council, nobody has even come close or made the effort to keep the citizenry informed and bring transparency to the process of running a city the size of Lewisville. He doesn't just give lip service to issues raised, but actually researches and responds. As an example, I had questions about paths, cycling routes, etc. TJ figured the best way to learn was to get a bike and ride with me. He goes the extra mile with the county and DCTA. Nobody can do the job like TJ can. He has our vote. Cam Reinhart
The Hammons
The Hammon House supports TJ for City of Lewisville Mayor. And we encourage you to do the same. In addition to fully supporting THRIVE multigenerational center and the installation of new nature trails, as city councilman and advocating for the best possible results of those projects from day one. (Things our family personally loves) He has also been instrumental in the vision to have bike and public transport connect cities getting our neighbors to and from lewisville for work and leisure. His constant voice to keep revenue in the city has encouraged our family to do more of our shopping locally including at "mom and pop" shops around town. I know he supports the local school district. And volunteers within the community. I could continue but nobody needs me to just be the hype-lady. TJ knows we don't see eye to eye on all the issues. But once upon a time he also sat down with me over milkshakes and explained to me why he disagreed. That type of availability and presence in the community is what we need at a time when transparency with our elected officials seems scarce and out of touch. Vote